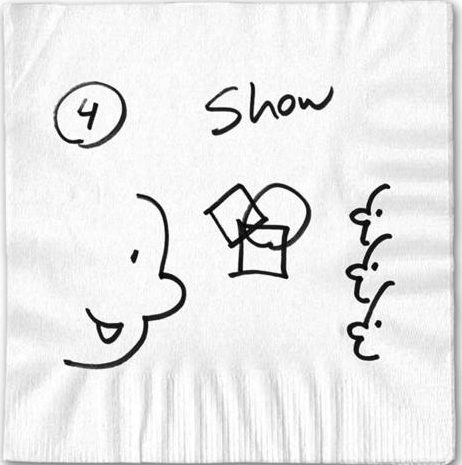 Don't rush into a large conference with little more than the equivalent of a napkin with dates, times and room numbers scratched on it, and the attitude, "Hey, at least I'm here.  How bad can it be? It's only a conference."  By making the choice to approach your work in this setting with such little regard will only end badly for all parties involved.
Having coordinated a substantial number of large national conferences with Visual Language Interpreting (VLI), I can assert that how you approach your work interpreting at a large—national or international—conference is indicative of your commitment to your craft and what you—and others—will experience as a result.
In order to perform successfully in this type of environment you need to understand the rules of engagement, ensure that you are prepared both physically and mentally, and have an established individual and collective plan of attack.  It is important to note that—contrary to the myth of conference interpreting—you do not have to be insanely gifted to perform well at this level.  While it helps to have a big talent, if you are an experienced professional, committed to the fundamentals of communication, preparation, and good decision making you will experience success and ample satisfaction.
The Psyche
Conference environments can—and do—unravel veterans of the field.
It is quickly obvious, when working in a conference environment, who is mentally equipped to perform at this level.  Sufficient mental and emotional stamina is an important component of the skill set necessary to work effectively in a large conference setting.
It is essential that you consider what the impacts of working in an intensely demanding environment—for days on end—will have on you emotionally.  It is more important that this consideration occur prior to committing and appearing to do this work.  The stress of performing in this environment—while nearly steroidal for those prepared—will poke large holes in those ill-equipped and will hinder any chance of a solid performance.
The required stamina for working in a conference environment is a byproduct of your commitment and dedication to always perform your very best.
Your Submission
In many cases, applying to work at a large—high impact—conference will require the submission of an application packet.  Typically, these submissions include an application, resume, and video sample of your work.
When you assemble this application packet, please consider that your submission is likely the first exposure a conference coordinator will have to you as a practicing professional.  Consequently, it is extremely important to submit a timely packet that has a completed application form, an updated resume with appropriate references, and a video sample that is current and applicable to the type of work you are applying to perform.
The video component of the application can be a challenge to prepare and is worthy of your respect.  To prepare an effective representation of your work, allow sufficient time to capture this footage.  It can take weeks to locate an appropriate environment, arrange the necessary logistics, and receive approvals from the appropriate parties.
When encountering this challenge, do not succumb to the temptation to stage and rehearse your video sample.  A rehearsed sample is no more effective than one that is received late or in the wrong format, fails to capture the source material or who is actually interpreting, or one that has work captured from two different decades.  Lastly, take the time to properly edit and label your video.
The care in which you prepare each component of your submission is an indicator to the conference coordinator that you are serious about your work and being considered for a position at the conference.
Solo Rehearsal
In order to be an active, contributing member of a large conference interpreting team it is important to recognize that the performance of the whole begins with individual team members preparing themselves prior to arriving onsite.
This solo rehearsal is just getting warm as you conclude your preparation for the specific sessions you have been assigned.  Take the time necessary to research the purpose and history of the conference, review the mission and vision of the organizational host, research the slated speakers and entertainers, and take a virtual tour of the conference site, its resources and surroundings.
The value of this independent rehearsal will be realized as you are confronted by the rigors and demands of work in this environment.  There is simply little time amid working sessions, preparation meetings, foraging, and attempts at recuperative sleep to set aside sufficient time to effectively prepare yourself individually.
Your distinguishing performance while working in a conference environment does not come by accident.  It comes as a result of your personal commitment to prepare and do what is necessary to perform at your best.
Vast Fluidity
The nature of working in a large conference environment is that change is constantly afoot.  It is commonplace for the time and location of sessions to be adjusted, to have a fellow interpreter fall sick or have an emergency, and to have sessions added and removed from the interpreting requirement.  To boot, these changes typically occur only moments before they are needed or scheduled.
This fluid environment necessitates your full and active participation.  It requires frequent checking to verify your schedule, confirm preparation meetings, and determine receipt of new preparation materials.  It also necessitates you be agreeable to operating—at times—without a complete set of information and be comfortable not being in control of all of the variables that may impact your work.  This paradigm is indeed different from the one engaged to manage the day-to-day.
It is essential to approach conference work with the proper paradigm.  By so doing you can maintain the singular focus needed to effectively perform, reduce the possibilities of being frustrated and out of sorts, and increase your contribution to the preparation and betterment of the interpreting team.
Your effectiveness in managing the fluid nature of a conference environment is dependent upon your ability to avoid being swept away by the encircling chaos.
A Liaison
Large events are filled with countless moving parts.  Central to the effectiveness of the interpreting effort at this level is an accurate understanding the purpose and function of each of these components.  Consequently, it becomes necessary—in many cases—to identify a liaison to act as both a central point of contact and an information interchange. This liaison position frequently takes the form of an interpreter coordinator.
The value of working with an interpreter coordinator is largely dependent upon your understanding of their primary function.  While it is certainly a significant portion of their work, their primary function is not simply to manage the interpreting schedule onsite.  Their core function is to establish a structure and process that insulates you from the chaos associated with a large event and that provides access to the people and information necessary to assist you in performing to the best of your ability.
With this in mind, take the time necessary—both prior to and during the conference—to arm your coordinator with an accurate understanding of your strengths, weaknesses, and preferences.  This will allow them to leverage this structure and process in order to complement your strengths, accommodate your weaknesses, and assist in creating an environment in which you can excel.
The interpreter coordinator—like you—is working in support of your success.
No Assumptions
The opportunity to work at a large conference draws both the profession's top talent and those aspiring to be.  Appropriately, the retained interpreting team likely contains accomplished practitioners from across the nation and world.
Working among this concentration of talent you will likely find that you will have worked with very few of these fellow interpreters.  This dynamic periodically leads to assumptions being made between co-interpreters about how the logistics of a working session will be managed.  Unfortunately, these assumptions typically result in needless errors and interruptions to the interpreting process.
Consequently, it is essential when performing at this level to revert back to the fundamentals of working with your co-interpreter.  Take the time to communicate—even over communicate—about details like the division of work during a given session, how audience question and comment will be handled, and what approach is helpful—and not—when providing and receiving realtime support.  Properly communicating about these details will reserve the collective energies of you and your co-interpreter for the primary task of interpreting.
A focus on the fundamentals of working with your co-interpreter is an important piece of a sound strategy for a solid performance at this level.
Onsite Rehearsal
The single greatest challenge of working in a large conference environment is receiving sufficient preparation materials and face time with the many speakers and entertainers in order to more fully prepare to work their slotted events.
Consequently, it is essential that you work closely with the interpreter coordinator—who is typically responsible to organize these meetings and materials—and the presenters and entertainers to arrange for these onsite rehearsals.  It is important to note that preparation meetings will typically occur before and after event hours or during the scheduled breaks in conference activity.
Approach these meetings as more than simply an opportunity for the presenter or entertainer to review their presentation and any specialized terminology with you.  Preparation meetings are a unique opportunity to engage the presenter or entertainer and understand the intention and desired outcome of the delivery of their presentation.  It is also an occasion to review session and room logistics, communicate your specific needs in order to effectively partner with them, and educate about the interpreting process
Onsite rehearsals and a prepared co-interpreter are the two greatest assets you will be afforded in a conference environment.  Your commitment to actively participate in these meetings is an indication of your personal desire to be prepared and an interest in supporting your co-interpreter and the success of the communication outcome.
Out of Your Depth
Even after having communicated and prepared with your co-interpreter and session presenter, you may find yourself suddenly in a position that you are unable to effectively support your team.  When finding yourself in this situation, it is essential that you take immediate action to get your co-interpreter support if at all possible.
When working in a large conference environment, the solution may be as simple as getting word to the interpreter coordinator and allowing them to arrange a replacement.  In the event a replacement is not available, it is essential that you continue actively supporting your team.  You are still responsible for the success of the communication outcome.  Do not perseverate your way into a mental and emotional stupor and leave your colleague without support.
With that said, actively supporting your co-interpreter does not mean gathering the courage to take the on-position in order to attempt to give them a couple of minutes to breath.  This is more disruptive than the few errors your co-interpreter will make pushing through to the break.
It is not finding yourself occasionally out of your depth in a conference environment that indicates you are unqualified to work in this setting.  It is the act of silently and independently absolving yourself of the responsibility for the communication outcome that is the indicator.
The Take Away
If you are interested in working in large—high impact—conference environments, take the time to actively hone your skills, build the requisite stamina, and blend the fundamentals of effective team interpreting into your day-to-day work.  Again, being insanely gifted is not a prerequisite to work in these environments.
May it be you that shutters as you overhear an interpreter—napkin equivalent in hand—strolling up to an interpreter coordinator asking what to do next.
[Reprinted with permission, copyright October 2007, Registry of Interpreters for the Deaf, Alexandria, VA.]