Backstage Coverage of the 2013 RID Conference

6

min read
July 22, 2013
August 14, 2013
11:00p
The Street Team that made the social media magic happen at the 2013 RID conference.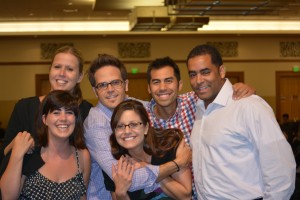 6:30p
StreetLeverage asked people who attended the 2013 RID conference about their experience and what they enjoyed about the conference.
4:30p
StreetLeverage Stunt Double, Wing Butler, interviews RID Executive Director, Shane Feldman about his impressions attending his first RID conference, and how the experience will guide the direction of his work.
12:00p
StreetLeverage asked people attending the 2013 RID conference about their experience and what they are enjoyed.
10:00a
New RID President, Dawn Whitcher, extends her appreciation to 2013 RID conference attendees and encourages them to attend the 2015 conference in New Orleans.
August 13, 2013
7:00p
Closing Ceremonies and Banquet.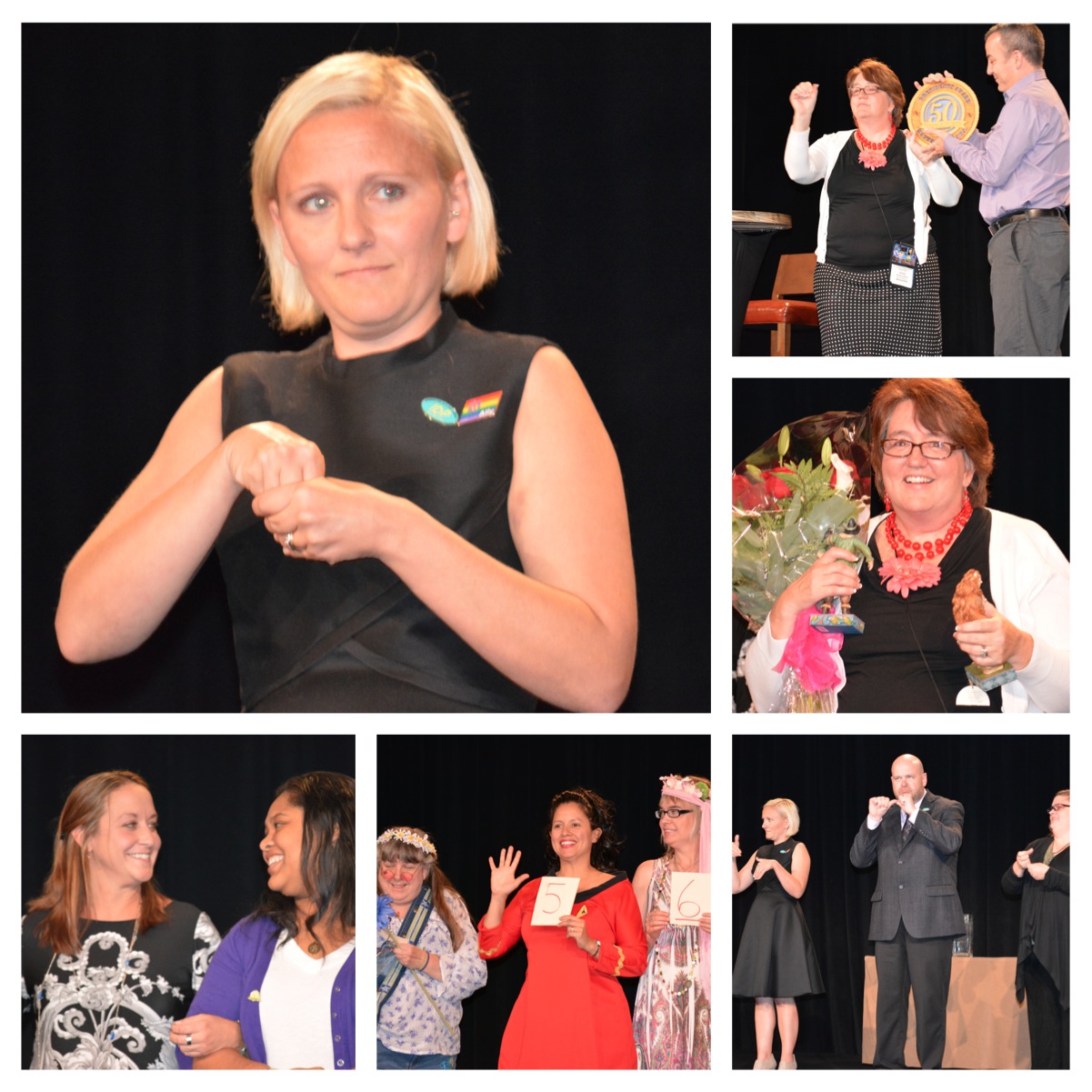 6:00p
StreetLeverage curator, Brandon Arthur, sits down with incoming RID President, Dawn Whitcher, to get her view on the future of the organization.
10:30a
Melvin Walker, newly elected VP of RID, sits down with StreetLeverage Curator, Brandon Arthur, to share his story and what he believes will define success for RID.
August 12, 2013
2:00p
Workshop | Team Me Up? CDI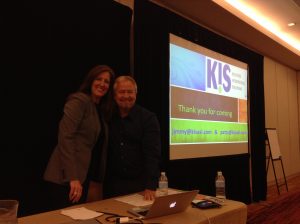 Jimmy Beldon and Patty McCutcheon offer that teamwork is vital to any professional relationship. Deaf and hearing interpreter teams must approach the work as one unit, both bearing equal responsibility for the message. They have to hold each other accountable. Read More.
2:00p
Workshop | Self Assessment: Critical for Interpreter Effectiveness
Marty Taylor's workshop, Self Assessment: Critical for Interpreter Effectiveness, lead participants through specific aspects of ASL and English, and offered skills meant to foster deliberate use of rich language. Read More.
6:20a
StreetLeverage Curator, Brandon Arthur, sits down with CM Hall, newly elected Member-at-Large, to learn more about her background and to get her perspective on the future of RID.
August 11, 2013
9:10p
A picture of Ben Hall, Jan Humphrey, Carl Kirchner, and Angela Jones after their group interview with Brandon Arthur.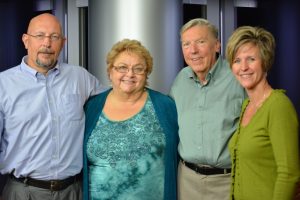 2:00p
Workshop | Emergency Management: Interpreter Self Care and Trauma Mitigation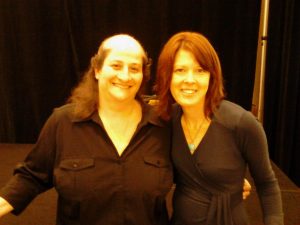 Angela Kaufman and Tomina Schwenke explored how sudden and unwanted or unanticipated upsetting events that we experience can be quite impactful. Consequently, sign language interpreters may hold on to pain for the rest of our lives and not able to work. Read More.
8:00a
StreetLeverage Curator, Brandon Arthur, sits down with Brenda Walker-Prudhom, President of the Registry of Interpreters for the Deaf (RID) to get her feelings as her term as President comes to an end.
August 10, 2013
2:00p
Workshop | Educational Interpreters: The Missing Piece of the IEP Team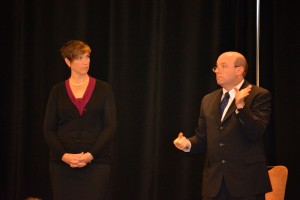 Richard Brumberg and Donna Flanders empower sign language interpreters in educational settings by providing the tools to become an effective member of the IEP team. Read More.
2:00p
Workshop | Thinking Through Ethics: The Development of Ethical Decision-making Among Sign Language Interpreters
Liz Mendoza uses the results of her online survey as a backdrop to explore if expert and novice sign language interpreters differ in prioritized competing meta-ethical principles when making ethical decisions. Read More.
* Session coverage made possible with the support of TCS & Associates.
11:55a
StreetLeverage Curator, Brandon Arthur, sits down with the Superintendent of the Indiana Deaf School, David Geeslin, to talk about how Deaf Schools can fortify the skills of sign language interpreters and how together, everyone can succeed.
10:30a
On the grounds of the Indiana School for the Deaf, Janis Cole connects with the familiar comforts of home – the pillars of Deaf culture.
7:00a
Lynnette Taylor stands on sacred ground as she describes the importance of the courtship sign language interpreters need to honor with the Deaf Community and the future of the field.
August 9, 2013
6:00p
In addition to the keynote delivered by Dr. Flavia Fleischer, we enjoyed spending time review the history and legacy of RID at the 2013 RID conference in Indianapolis, IN.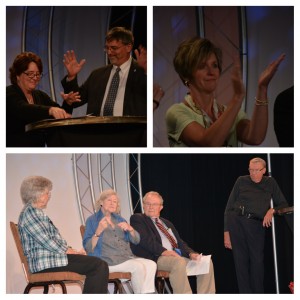 2:00p
Workshop | Conflicts Between Interpreters and Clients: When You've Tried Everything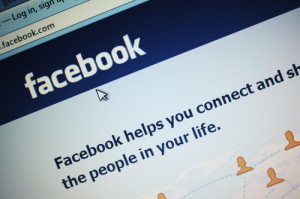 Pamela Whitney, Matthew O'Hara and David Bowell noted that most ethical complaints stem from some sort of perceived violation of the Code of Professional Conduct via information shared on social media websites like Facebook. Read more.
* Session coverage made possible with the support of TCS & Associates.
11:40a
StreetLeverage Curator, Brandon Arthur, sits down with 2013 RID conference keynote speaker, Flavia Fleischer, to gain insight into her evening speech and the importance of Deaf Community Cultural Wealth.
8:00a
Brenda Walker-Prudhom officially welcomes sign language interpreters to the 2013 RID Conference and introduces the theme, Fifty & Forward: Building on the Legacy.
August 8, 2013
6:30p
50 years later, RID members celebrate and contemplate the future of Sign Language Interpreting. Get insight to the topics and events of the 2013 RID National Conference in Indiana via StreetLeverage. Let's come together and make a difference.
10:00a
Interpreters with Deaf Parents Member Section (IDP) presents an RID Conference Pre-Conference Workshop today introducing a discussion on conduct in "civility" as a necessary change agent to expanding credibility within the sign language interpreter industry. With instructors Sharon Neumann Solow, Dr. Carol Patrie, Dr. Marty Taylor. Good dialoge and great food for thought.
asdf
August 1, 2013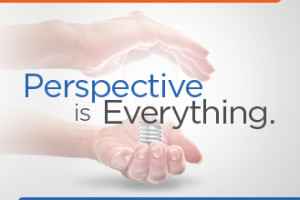 StreetLeverage is excited to share that it has been named the official Social Media Sponsor of the 2013 RID conference being held August 9th-14th.
This online coverage will bring a cross section of the conference to those unable to attend and will add greater depth to the onsite experience.
What to Look For?
With the generous and progressive support of StreetLeverage sponsors, our conference coverage will include:
Video Interviews
Interviews with industry leaders, conference speakers and attendees.
Live Facebook & Twitter Feeds
Live session and event updates via: Facebook | Twitter | #RID2013
Blog Posts
Summary coverage of educational sessions.
Attendee Experience
Attendee experience captured via videos and pictures.
When and Where?
Conference coverage will begin August 8th and conclude August 15th.
You can participate in the conference coverage right here on StreetLeverage (on this very page in fact) and by connecting with us on Facebook, Twitter, and RSS Feed. You can also stay current on information leading up to the event by joining our Facebook event by clicking here.
Street Team
An effort like this is only possible with the support of several amazingly talented people. StreetLeverage would like to extend its sincere appreciation to all the social media ninjas that will be onsite to make the magic happen. Special thanks to:
Hayley Baccaire
Lindsey Kasowski
Amy Williamson
Paul Tracy
Jennifer Maloney
Diane Lynch
* Interested in receiving StreetLeverage posts in your inbox?
Simply enter your name and email in the field above the green "Sign Me Up!" button (upper right-hand side of this page) and click "Sign Me Up!"
asdf
What's everyone chatting about?
Stay on top of the latest and greatest.​
We will never share your info.​
Sign me up!