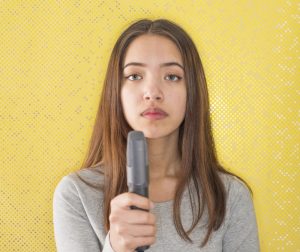 I am facing a panel of 6 people in front of an audience of 200 attendees. The event is about to commence. I have a lone microphone in my hand and an empty chair beside me. As I settle into position I look around for my team and realize that I am alone. I cannot locate the other two members of the interpreting team for the event, let alone the 'second pair of eyes' that were promised to me.
Right as the facilitator takes the stage, I see the other interpreters get into place to interpret for the audience behind me. "Great—I think—as soon as the panelists start, someone will come right over." The Deaf panelist thought the same as I had assured all involved that the team was locked and loaded and ready to go. Sparing some of the logistical tidbits, I will say that what happens next is the very opposite of what I committed and of what had been committed to me, the very opposite of what had been instilled in me in my professional upbringing: I was not part of a team.
All Alone
As I sit in my chair with the microphone I try to get the attention of my fellow interpreters. I wave my hand and the Deaf panelist tries to make eye contact with them from the stage…nothing. It never happens. For the next 45 minutes no one comes to my aid. After the panel and speakers finish, I make my way out of the conference. As I exit, one of the interpreters sees me and says, "great job" while throwing me a thumbs up and a wink.
Fortunately, the above series of events are not what I typically experience from my hard working colleagues. I do, however, need to go on record by saying, sadly, this was not the first time that I have been an eye witness to, or the recipient of the stated behaviors, which leads me to beg the question: Whose team are we on anyway?
The Pre-Conference
What events transpired prior to me sitting there alone with the mic in my hand? Let's rewind the morning.
I was informed with short notice that I would be voicing for a Deaf panel participant during a local conference. I was afforded no opportunity to prepare myself, as the speaker, with whom I work regularly, had yet to even form an outline of their own thoughts and points for their remarks.
Of course the idea of walking in cold to any situation can immediately ignite the nerves. And although I was engaged to be the primary voice interpreter for this panelist, I anticipated the event organizer requesting interpreters for the general audience, as there was a high expectation of several Deaf attendees to be present. Proactively I arrived as early as possible to get the lay of the land and pre-conference with the other interpreters.
Social Agreement
Right away I was greeted by the requestor and made as many decisions as I could without the presence of the Deaf panelist. I was also told the other interpreters for the event had already arrived and I was introduced to one of the two of them. I felt an immediate sense of camaraderie flood over me at the relief of having a 'team' on hand. Not just one, we were potentially a team of three. Actually, when you include the Deaf panelist, I was really to be one of a four-member team.
My professional switch flipped into the 'on' position. I wanted to first put my 'team' at ease informing her that I work with this person regularly and would handle the voicing, however, I would really appreciate another pair of eyes next to me. I was met with lots of head nods and affirmations of support. I explicitly spelled out what I needed from my team and I was assured I was going to receive it. After all, these were the assigned interpreters for the conference. The whole conference was their responsibility, right?
In the end, I felt comfortable that the arrangements had been settled and we all knew our roles.
Collective Responsibility
Reflecting on the events of that morning returns my focus to the basics with an intense need to open up a dialogue about where we are and where we are headed as a group of professionals. As sign language interpreters, we enlist ourselves to demonstrate professional courtesies to our clients and consumers, but what about to our professional counterparts, our co-workers, our fellow partners, and team members?
Part of the reason I pose this question, is because it was posed to me. At the conclusion of it all, the Deaf panelist wanted to know what had happened. Why was I not viewed as a member of the team? Why didn't the interpreters feel the same professional responsibility toward me as I did towards them?
If we were there with the same purpose, with the same roles, and with the same goal, should we not have all been working together to provide continuity and integrity of message for all? Should it not be automatic that when we are present in multiples we forge an automatic alliance? What would have happened if I had not done a 'good job'? After all, was not the success of the 'team' dependent upon the success of my production and how I worked with the Deaf panelist? Not one of us functioned independently of each other, rather, interdependently. Isn't that how we should prefer to work, knowing our arsenal includes not only our tool bag, but those of a network?
The 3 Point Replay
Some things are innate, others have to be taught and nurtured until they become second nature. In my view, Professionalism, by way of teamwork, is one of those things. We need to understand its definition and its connectivity to those with whom we work. We also need to be aware of the social and cultural implications it has in and around the community when we fail to grasp the concept.
While I appreciated the one interpreter expressing her opinion that I did a good job, as I consider the events of that morning, I would like to offer 3 things that I believe could have changed the dynamics of the assignment and led to a better outcome:
With the need to reassure my team of my familiarity with the panelist, it is possible I projected a certain level of over-confidence, which may have given the impression that I needed less support than what I actually stated.
As the assigned conference interpreters, there was a need to be alert to all aspects of the event, whether or not serving as the primary interpreter for a certain portion.
Post-conference would have allowed us, as a team, to retrace which missteps led to our communication breakdown and which steps to take going forward as not to repeat any mishaps on our part.
The above forms part of the recipe to the antidote for counteracting the effects of unbalanced teamwork and contributes to preventing the series of events, which resulted in the unintended isolation of a team member.
In Conclusion
It gives me pleasure to happily state that for the past twelve years, I have been part of a profession where I believe the majority to be team players, partners even, with the same mission on the tips of their fingers and tongues. In fact, many of them have raised and nurtured me with their skills and knowledge, even passing along and bequeathing me their professional genealogy.
But just as two children are raised in the same home with the same parents, with the same rules and expectations, who do not mimic each other, so it goes in the professional arena where no two interpreters reflect the same level or depth of understanding with regards to this concept. It then becomes abundantly clear what the antonym looks like.
I want to challenge myself and each of us to continue to analyze ourselves and our approach to the work we do and how it effects our colleagues.  Teamwork should echo and permeate the very fabric of what we do.