Does RID have Deaf heart? What happened with the Lewis and Naomi resignations? What's going on at the leadership level at RID and what does the future hold for the organization? These are just a few of the candid questions Shane Feldman, Executive Director of RID, answered while attending StreetLeverage – Live 2013 | Atlanta. He also examined how upholding standard practices, collaborating, and remaining current on industry trends can position sign language interpreters to support collective solutions that will support the profession long-term.
Read transcript here. Find the PPT deck for his talk here.
Open Forum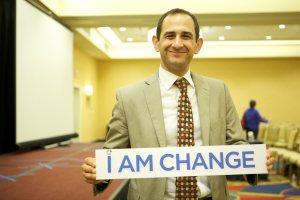 In addition to speaking during Sunday's Main Session at StreetLeverage – Live | Atlanta, Shane also made himself available for an Open Forum discussion. Please find the questions posed by attendees and Shane's response in the vignettes that follow.
More Dialogue
Shane is prepared to respond to additional questions you may have for him about RID. He will be responding to questions asked in the comment section of this post and in a follow-up interview.
Bring on the questions!
Forum Questions 
(9 short installments)
Installment One  
(5:51 mins)
– Josie McDaniel Burket: "Where is the Deaf involvement at RID?"
– Kyle Durate: "What are your thoughts about collaborating internationally and the view that there is a conflict with RID being a advocacy organization and a certifying body?"
Installment Two  
(5:58 mins)
– Patrick Graham: "What can you do to bring more deaf professionals, and their experience, into RID?"
– Ramon Norrod: "Is now the time to spin-off certification aspects of RID to another organization?"
Installment Three  
(7:20 mins)
– Richard Laurion: "What mechanism should RID be using to communicate?"
– Stacey Storme: "Do you think RID has Deaf heart?"
Installment Four  
(7:44 mins)
– Natasha Terry: "How can RID support providing services to Native America tribes around the U.S.?"
– Nancy Bloch: "What is RID's communication policy for this year's conference?"
Installment Five  
(9:19 mins)
– Betty Colonomos: "What is RID doing in the way of outreach to the Deaf Community to educate on their rights and the proper expectations related to interpreters?"
– Ramon Norrod: "Is it possible to set a policy at RID conferences that all presenters sign their presentations?"
Installment Six  
(7:18 mins)
– Mandy Bracken: "How do you as a member of the RID leadership create a culture of communication equality?"
– Sandra Maloney: "How do you create trust in certification testing at RID?"
Installment Seven   
(5:44 mins)
– Darlene Ensenat: "Has anyone lost their certification as a result of an Ethical Practices System investigation?"
– Ramon Norrod: ""Has RID considered reducing or eliminating fees to encourage more Deaf Community members to get involved in the field?"
Installment Eight  
(6:08 mins)
– Nancy Holdren: "What is RID doing to ensure that the testing process isn't a barrier for those taking the CDI test?"
Installment Nine  
(5:16 mins)
– Twitter: "What can RID members do to gain access to information?"
– Facebook: "What do you say to those that are concerned with the state of affairs at RID?"
 (Questions relayed by Brandon Arthur)
* Interested in receiving StreetLeverage posts in your inbox?
Simply enter your name and email in the field above the green "Sign Me Up!" button (upper right-hand side of site) and click "Sign Me Up!"
asdf