2014 Sponsors
StreetLeverage extends its sincere appreciation to our sponsors and recognize them for their progressive thinking and commitment to thought leadership within the field of sign language interpreting.
* For information on sponsoring StreetLeverage – Live, contact Brandon Arthur.
Platinum Sponsors
Vineya | Austin, TX

Vineya is the only national marketplace of certified ASL interpreters, allowing you to manage the entire assignment process online-from finding jobs to billing and everything in between. Powered by CSD, Vineya is rooted in over 38 years of interpreting innovation. Be part of the future of sign language interpretation. It's here now. Let's build this together. www.GoVineya.com
| Website
Purple Communications | Rocklin, CA
At Purple, we're dedicated to developing fast, easy and convenient communications technology to fit your individual lifestyle. Because of our many innovations and firsts, including Internet relay, wireless relay, mobile communication apps, real local 10-digit number access for video and text relay customers, and interpreting services, Purple continues to be a strong leader in VRS. Our most recent innovation, SmartVP™, is much more than just a TV-top videophone, it's a state-of-the-art device that is changing the way our customers communicate, making Purple your smarter VRS choice. For more information about SmartVP, go to www.purple.us/SmartVP. To download Purple's New P3 and P3 mobile, go to www.purple.us/trynow.
| Website
Founding Sponsor
Access Interpreting  |  Washington, DC

Access Interpreting is proud to be the founding sponsor of StreetLeverage – Live.  Access is a nationwide communications service provider solely invested in enriching the quality of life of the Deaf and hard of hearing community.
With our top of the line Access Portal system, you can easily view, accept, track, and invoice your assignments. Our friendly schedulers are available 24/7 to take care of the logistics; so you can focus on providing your services. Contact us to learn more about how we can work together.
| Website
Silver Sponsors
TCS Associates | Rockville, MD

Trusted, Careful, Steadfast — These words come to mind when describing TCS Associates' philosophy and approach to providing interpreting services.  TCS Associates employs a dynamic mix of Deaf, hearing and CODA interpreters and believes in providing competent interpreting services while maintaining strong ties to our roots in the Deaf community.  TCS Associates applauds and supports Street Leverage's innovative approach to creating dialogue for change in our field and is thrilled to have this opportunity to provide sponsorship.
| Website
Professional Sign Language Interpreting  |  Denver, CO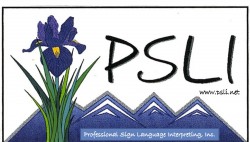 Professional Sign Language Interpreting, Inc. (PSLI, Inc.) has been providing top notch interpreting services since its beginnings in January of 2001. Owned by three RID certified interpreters with 100 years of combined interpreting experience in the Deaf Community, PSLI, Inc. is committed to providing comprehensive communication services in the most professional, efficient, and effective consumer-oriented manner possible. We have RID certified coordinators/schedulers  and can match the needs of the Deaf community with the skills of the interpreting community. We work with the most skilled, certified interpreters in the Denver area.
PSLI, Inc. is also committed to providing a meaningful and rewarding professional career for sign language interpreters. We provide liability and workers compensation insurance coverage for all interpreters as well as health and retirement benefits to staff. Whether you're seeking our our services or interested in a career, we at PSLI, Inc. look forward to working with you.
| Website
Partners Interpreting  |  Plainville, MA

Partners Interpreting LLC is a full service interpreting agency. Entering into their fifth year of operation, PI is proudly owned and operated by interpreters who are CODAs. PI serves the thriving deaf community in Massachusetts and Rhode Island and is  happy to support Street Leverage Live in Austin, TX!
| Website
Bronze Sponsors
MARIE Center  | Greeley, CO

The UNC-MARIE Center, funded by RSA, is one of six universities that comprise the National Consortium of Interpreter Education Centers (NCIEC).  MARIE is the center of excellence in legal interpreting. Towards the goal of increasing the quality and quantity of sign language interpreters, MARIE provides training, technical assistance, and resources for practitioners, consumers and interpreter education programs.
| Website
Gallaudet Interpreting Service  | Washington, DC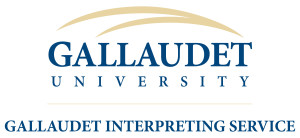 Established in 1990, Gallaudet Interpreting Service (GIS) serves the Gallaudet community and the general Washington D.C. metropolitan area. With over 30 years of growth as a provider of communication access services, within the heart of the Deaf community, GIS embodies commitment, professionalism, experience and a strong sense of customer service, as well as excellence in interpreting skills.
Although GIS is primarily a campus resource, interpreters also work in the greater community, including local business, government, legal and medical facilities. GIS staff and freelance interpreters work in a wide array of settings; Gallaudet and consortium classrooms, conferences, banquets, legal arena, video interpreting, business meetings, job interviews, workshops, internships, medical appointments, international, Deaf-Blind interpreting services and more.
In addition to providing interpreting services, GIS is committed to actively engaging in the ongoing enhancement of the interpreting profession and client services through professional development opportunities, such as within the Results! Mentoring Program and interpreting workshops. We are excited to sponsor Street Leverage – Live this year, and we look forward to seeing many of you in Austin!
| Website
Communication By Hand  | Austin, TX

Communication by Hand is proud to have sponsored, nurtured, mentored and partnered with Certified Interpreters to provide an exceptional interpreting experience to our  Texas Community. 20 years strong and growing daily!
| Website
Sorenson Communications  | Salt Lake City, UT

Sorenson Communications® (www.sorenson.com) is a provider of industry-leading communications products and services for the deaf and hard-of-hearing. The company's offerings include Sorenson Video Relay Service® (SVRS®), the highest-quality video interpreting service; the Sorenson ntouch® VP videophone, designed especially for use by deaf individuals; ntouch® PC, software that connects users to SVRS by using a PC and webcam; ntouch® for Mac®, software that connects users to SVRS by using an Apple® computer; ntouch® Tablet, which turns the Apple iPad® with a front-facing camera into a larger-screen mobile VP; and ntouch® Mobile, an application empowering SVRS communication via mobile devices.
| Website
VideoLinkwell | Toronto, Canada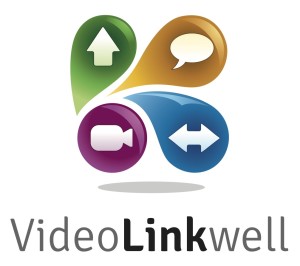 VideoLinkwell is proud to sponsor StreetLeverage Live 2014.
VideoLinkwell's mission is to develop software that streamlines the workflow for assessing and giving feedback on interpreter performance.  Specific, detailed feedback is an important element of interpreter training, mentorship, continuing education and self assessment.  This can be a time consuming process.  VideoLinkwell is a Mac OS X application that simplifies this process from capturing an interpretation on video, then sharing it with an trainer or mentor, and finally giving feedback with text or video annotations.
| Website
ASL Interpreter Referral Service, Inc. | Somerset, NJ

ASLIRS Inc. is excited to be the Streaming Sponsor for StreetLeverage – Live 2014.  It is the mission of ASIRS to provide the most appropriate and excellent interpreting and captioning services to people who are deaf, hard-of-hearing, deaf/blind, and hearing in tri-state of NJ/NY/PA. Check us out on www.aslirs.com.
| Website
Supporter Sponsors
DARS Office for Deaf and Hard of Hearing Services | Austin, TX

The DARS, Division for Rehabilitative Services, Office for Deaf and Hard of Hearing Services (DHHS) works in partnership with people who are deaf or hard of hearing to eliminate societal and communication barriers to improve equal access for people who are deaf or hard of hearing. DHHS advocates for people of all ages who are deaf or hard of hearing to enable them to express their freedoms, participate in society to their individual potential, and reduce their isolation regardless of location, socioeconomic status, or degree of disability.
| Website
Sign Language Professionals | Pittsburgh, PA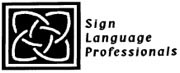 Sign Language Professionals provides a network of nationally certified interpreters to facilitate communication effectively, efficiently, and clearly.  SLP interpreters abide by a national standard designed to give you the most reliable, professional services available. Our combined commitment to and passion for our field keep Sign Language Professionals the "Best in the Business. Hands Up!"
| Website
Texas Society of Interpreters for the Deaf | Austin, TX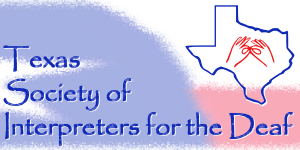 On November 16, 1963, 30 individuals (24 interpreters, 5 members of the deaf community, and one parent of a deaf child) from all over Texas signed the Charter which established the Texas Society of Interpreters for the Deaf. As the first professional organization of interpreters in the nation, TSID has been one of the leaders in this field. TSID is a non-profit organization established for the purpose of developing and strengthening the profession of interpreting in Texas.
| Website
Gallaudet University – Southwest Regional Center | Austin, TX

In partnership with Gallaudet University, GURCs offer courses, workshops, seminars, trainings, and other resources for deaf and hard of hearing people, their families, and the professionals who work with them, often in collaboration with sponsoring agencies serving deaf and hard of hearing communities. Schools for deaf students, special education school districts, interpreter training programs, or professional organizations can be sponsoring agencies. The southwest region includes Arkansas, Arizona, Colorado, Louisiana, New Mexico, Oklahoma, Texas, and Utah. Visit www.gallaudet.edu/outreach_programs.html to learn more about all six regional centers across the nation!
| Website
Stay on top of the latest and greatest.​
We will never share your info.​
Sign me up!