Harnessing Social Media to Maximize Your Professional Presence

This free workshop is an easy to follow, high-energy guide for sign language interpreters that will get participants excited to responsibly venture into social media.  Wing gives instruction on how to harness the power of social media to build your professional presence online. He makes the case that everyone needs a personal brand as the business environment has changed. Among other observations, he notes that the day of the traditional word-of-mouth reputation building is ending, and that even if you are not going to venture out on your own, you need to have a strong online brand if you want to get hired.
Key Takeaways:
1.      How social media is flattening the sign language interpreting industry.
2.      How to apply the principles of flight to extend your social media presence.
3.      Even with all the content out on the web, it is still possible to differentiate yourself.
4.      The endeavor is going to take time.
5.      Suggested steps on how to get started.
Sign-up Required:
In order to receive access to the workshop, please enter your name and email in the Subscribe Here box (yes, the one on the upper right-hand side with the green button).  You will then receive an email to confirm your subscription.  Upon confirmation, you will be sent a link for the workshop.
Refund/Cancellation/Special Accommodation:
Please contact Brandon Arthur by clicking here for inquiries on the refund, cancellation, and special accommodation policies.
Continuing Education:
Amplab is an approved RID CMP Sponsor for Continuing Education Activities. This General Studies program is offered for 0.25 CEUs at the Little/None Content Knowledge Level.
* Only participants completing the post test and evaluation are eligible to receive CEU credit.
Note, it may take approximately 30-days from the end of the month the workshop is completed for CEU's to be posted to your Registry of Interpreter for the Deaf (RID) account.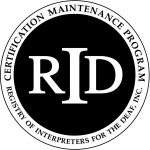 Stay on top of the latest and greatest.​
We will never share your info.​
Sign me up!