CIT 2014 – Keynote | Where Are We? Back to Our Roots As We Move Forward In An Evolving World
(Video coverage begins by sliding the video timeline to 15:45)
Description
The keynote presentation will examine how living in a rapidly evolving, diverse and technological society presents new issues and challenges for the interpreting education field.  As we look back to our roots and reflect on what this means within our current framework, we need to consider our role as allies and agents of change as we align our past and present, with a focus on the future.
Presenter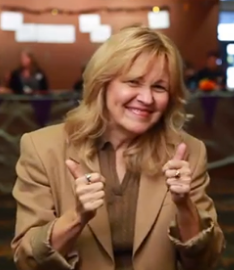 Dr. Kathy Jankowski, prior to retirement, was the dean of Gallaudet University's Laurent Clerc National Education Center, which provides oversight of two demonstration schools – the Kendall Demonstration Elementary School and the Model Secondary School for the Deaf.  She was previously the first Deaf and first female superintendent of the Minnesota State Academy for the Deaf and the Central North Carolina School for the Deaf.  Dr. Jankowski has also been a Gallaudet University Communications professor, a program director at a non-profit advocacy organization, a school counselor, and an American Sign Language instructor.  She holds a bachelor's degree from Gallaudet University, a master's degree from the University of Arizona and a doctorate from the University of Maryland.  She is the author of Deaf Empowerment: Emergence, Struggle, and Rhetoric and has also published chapters and articles in books an publications.
Stay on top of the latest and greatest.​
We will never share your info.​
Sign me up!